September Box Top Challenge!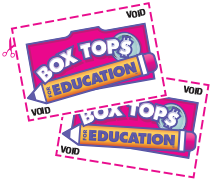 Box Top Challenge!!!
This is the first box top challenge of the year, let's make it a good one! Bring in all of your box tops you've been saving throughout the summer.  Last challenge, the winning class handed in over 400 box tops! Let's see if your class can hand in more than that!                                                                         
Es la primera competencia de Box Tops del año,¡vamos a hacer una de los mejores! Trae todos tus Box Tops que has guardado durante el verano. ¡En la pasada competencia, una de las clases juntó mas de 400 Box Tops! ¡Vamos a ver si tu clase puede juntar mas que eso!
Hand all the box tops to your teachers by FRIDAY SEPTEMBER 30
Trae todos los Box Tops y da a tu maestro. El ultimo dia es viernes, 30 septiembre.
Any questions please contact Randi Craft, box top coordinator, at
Si tienes alguna pregunta contactar a Randi Craft, Box Top coordinador a
September Collection Sheet
Categories:
News